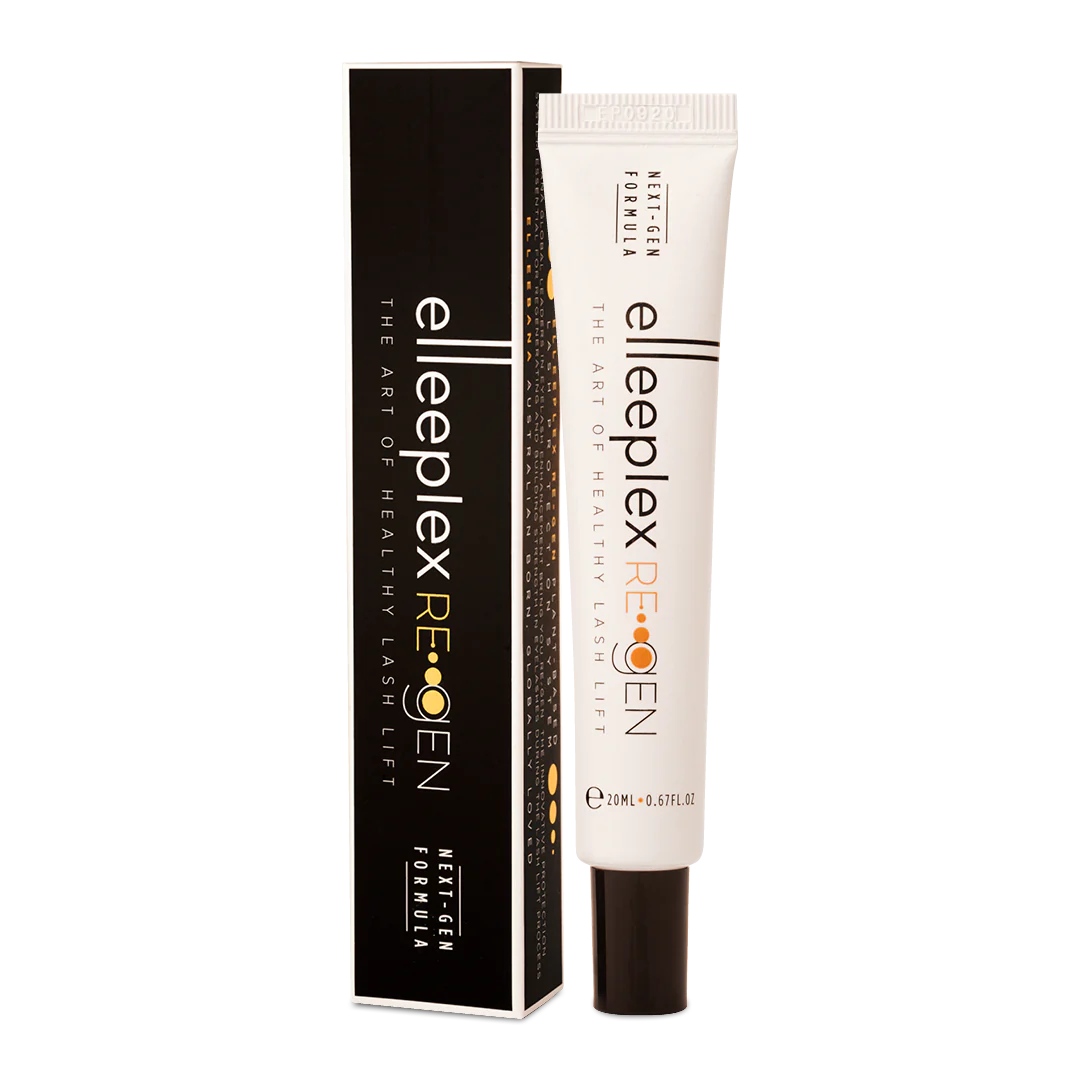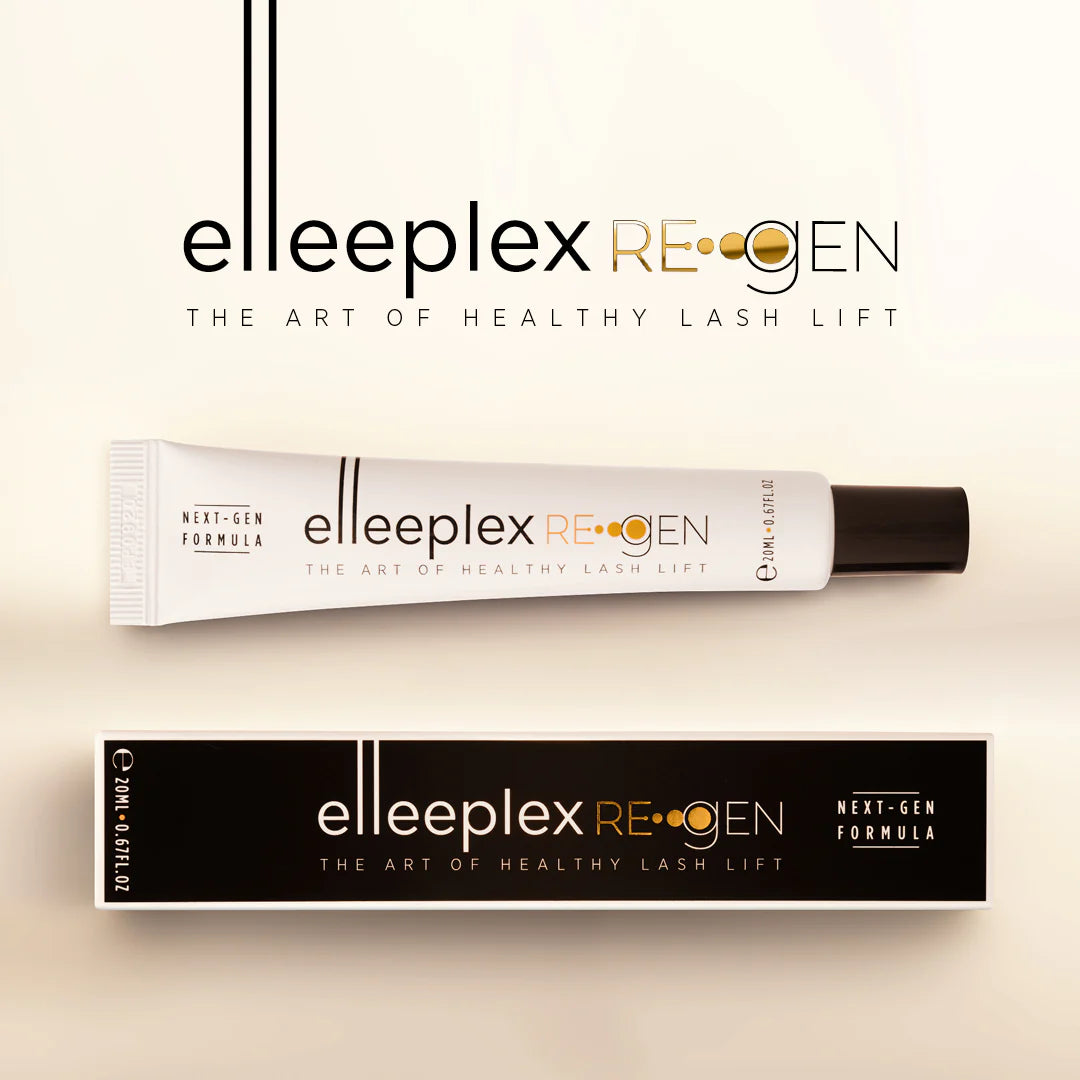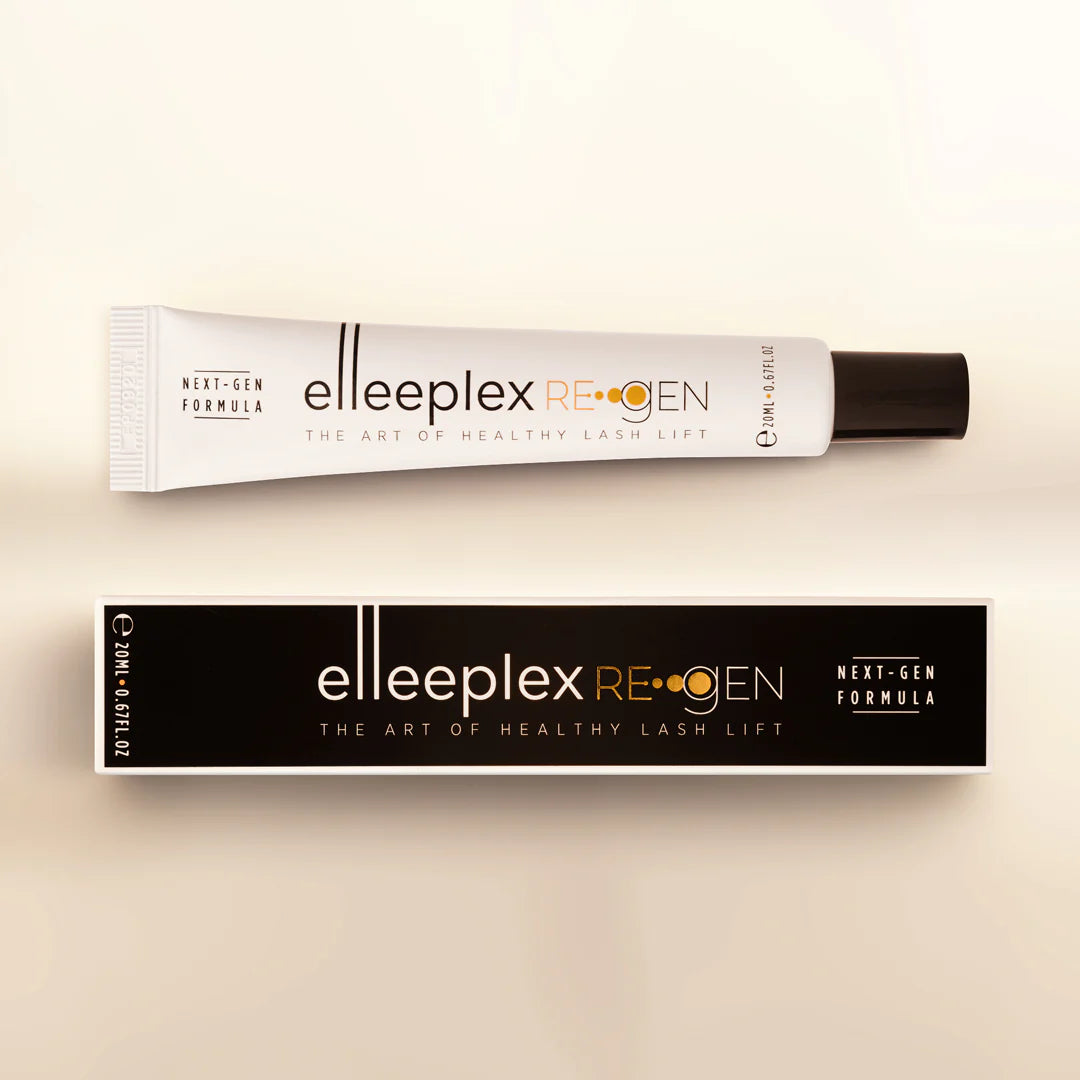 Elleeplex ReGen Next-Gen Formula
Included in the Elleeplex Profusion Kits! 
This is new formula is replacing the ReGEN Next-Gen
These key improvements to the formulation involve:
The addition of Myristoyl Pentapeptide-17 and Biotinoyl Tripeptide-1 in a proprietary blend with amino acids Serine, Threonine and Arginine – these peptides and amino acid formulations help to stimulate keratin production and assist in lengthening, strengthening and giving more volume to lash and brows.  The clinical trials have showcased that hair is strengthened by 21% and elasticity by 18% after a chemical treatment.
The unique addition of BIS-4 PCA Dimethicone into our ReGEN Next Gen allows "Powerbond technology" within the eyelash or eyebrow and helps to work with molecules within the hair shaft restoring the disulphide bonds and hydrogen bonding of the hair during and after chemical services.  This revolutionary ingredient also helps to restore the natural hydrophobicity of the lashes which is lost during the lifting or lamination process or during other chemical services such as coloring.
The product continues to contain our brilliant 8 plant extracts, and Vitamins Panthenol and Biotin again all with lash and brow hair health in the forefront of the products development.
THERE IS A QR CODE ON THE REGEN BOX WITH INSTRUCTIONS
ELLEEPLEX ReGEN – NEXT GEN
From the continued success of the traditional Elleeplex ReGEN formula the reformulation of ReGEN was to continue to offer a conditioning, moisture boosting, hair strengthening product but have it formulated to be combined within the service to save salons time.
The new Elleeplex ReGEN NEXT GEN cream formulated system can be combined in a multitude of ways which we will address entirely throughout our training programs as a base line for all here are some brilliant ways to combine ReGEN:
DURING A LASH LAMINATION – combine ReGEN with the setting lotion.  This locks the moisture into the hair shaft in an infusion step to relieve hair stress and eliminate dryness caused from hair styling.  Combine this with a ratio of 8 parts setting lotion to 1 part ReGEN Next Gen - or
DURING A LASH TINT – combine ReGEN with the Elleeplex Profusion Lash Tint system with a ratio of 4 parts tint, 4 parts oxidant, 1 part ReGEN Next Gen – or
DURING A BROW LAMINATION  -  combine ReGEN with the setting lotion.  Combine this with a ratio of 8 parts setting lotion to 1 part REGEN Next Gen – or
DURING A BROW TINT – if you have combined ReGEN into the setting lotion during a brow lamination, you wouldn't combine it again into the tint step but it's good to remember that many clients will return at 3 – 4 weeks for a shape and tint after their brow lamination and this is a brilliant boost of hydration back into the brows after the initial brow lamination service - or
AS A STANDALONE SERVICE – this can be a great upsell to any in-salon service as it is a plant based cohesive solution that is soy amino acid based packed with carefully selected essential fatty acids and flower extracts designed to mimic the functional ratios in commercial human hair amino acids - or
AFTER LASH EXTENSIONS REMOVAL – offer the return of moisture to lashes after a removal of lash extensions application to promote hair growth and offer nourishment and care to the lashes.
Approximately 50+ applications in a tube and with so many ways to use this product it's going to be a must have for salons the world over. 
Elleeplex ReGen Next-Gen Formula