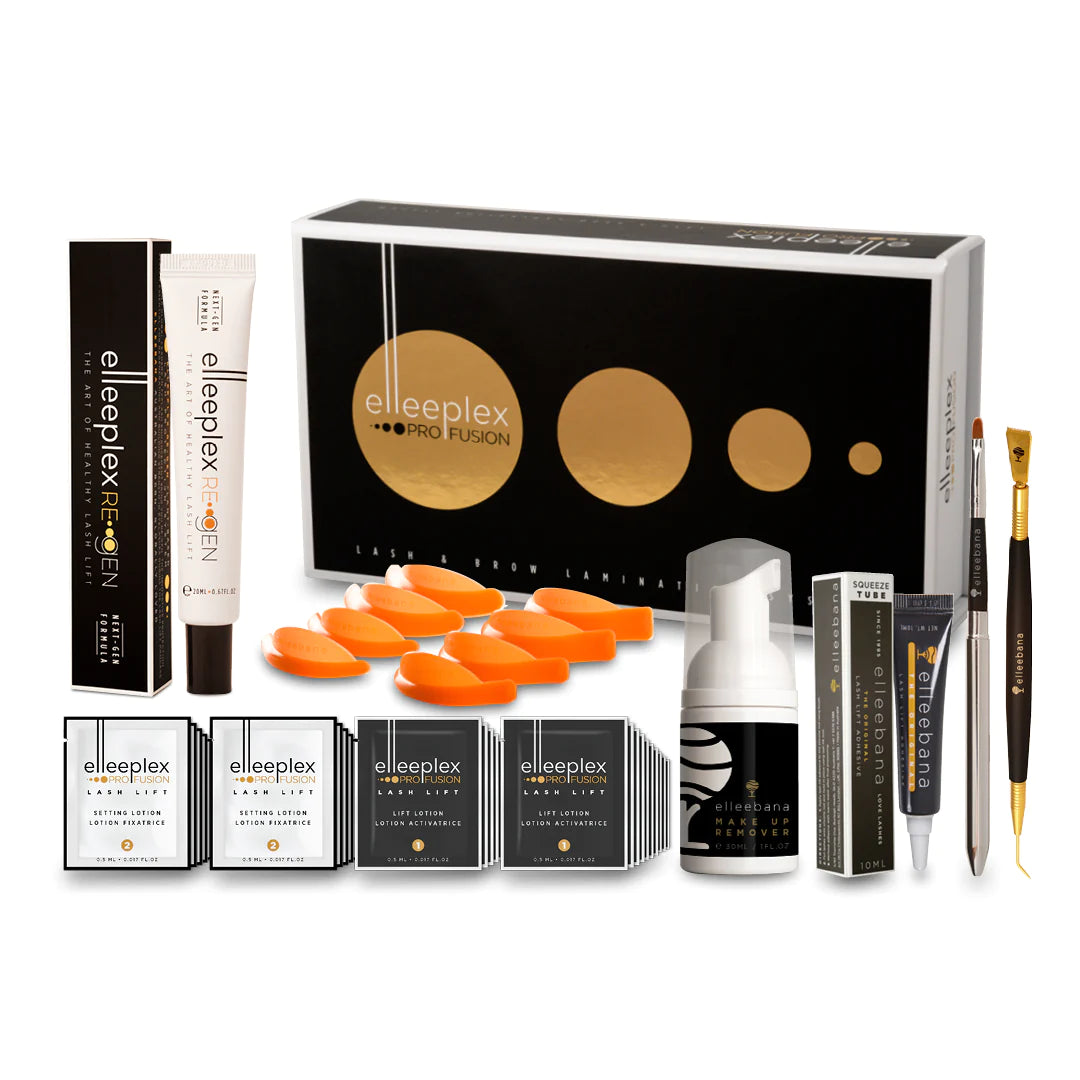 Elleeplex Profusion Full Kit
Minimum of 30 Treatments! 
30 Lift and 30 Setting
Combo Pack of Flex Rods
Lash Lifting Adhesive
Elleebana Makeup Remover 30ml
Application Brush
Precision Lifter Tool
Elleeplex Next Gen ReGen
Expiration Date stamped on Kit Box, use within 24 hours of opening sachets. 


ELLEEPLEX PROFUSION LASH AND BROW LAMINATION SYSTEM
A Note From Zoe Mitter: Around 7 years ago I personally trialed a brow lamination on my eyebrows using the Elleebana lash lift system.  I knew the results worked but we also knew more about the ingredients found in our lash lifting products and how contact with skin is not recommended.  When brow lamination became of interest to the beauty industry, we as a brand, knew the importance of finding a system that was going to meet many of the requirements we had been searching for in a product and spent the good part of 2 years producing our next generation of lash and brow lamination system with the salon user in mind. 
Our clinical trials involved partners here in Australia as well as from around the Globe - all testing and trialing the product during which we tabled the importance of a system that had dual benefits.  Both a Lash and a Brow Lamination system in one, but we wanted more for our salons, so we created just that. Here are some of the key benefits:
TGA FREE

 

– this means no thioglycolic acid or its derivatives.  This is forming a strong part of the next phase in lash lifting ingredients globally and with evolving raw material research and formulations Elleebana is once again leading the way with our water light cream emulsions in the new Elleeplex Profusion Lash and Brow system.
Lash bond integrity

 

- is maintained with the use of a highly evolved Cysteamine Hydrochloride formula that minimizes the chance of over processing with a nourishing lash damage defense system formulated into the easy to use system.
Strengthens

 

– lashes and gives a longer, fuller and more defined transformative result to a lash or brow lamination.  Combined with Elleeplex ReGEN "Next Gen", the amino acid technology and plant extracts make this system a rejuvenation for the industries standards and a radiance that is reactivated for clients.
Vegan friendly

 

– not tested on animals and the raw materials used in the formulation contain no materials derived or sourced from animals, animal tissue, tissue extract etc.  In fact, we test our products on ourselves.  The use of the term "Keratin" in an ingredient listing refers specifically to the use of an animal product and while it's a buzz word for hair and lash services, more and more clients are seeking out Vegan friendly services. 
Health Canada approved

 

– with no Sodium Bromate.  Throughout many countries around the world Sodium bromate is being banned for use as you know in lash products/brow products and therefore we needed a system that was ahead of that coming trend with a variety of other countries also following suit very quickly after Canada's changes over 12 months ago.
Single use sachets

 

– you might be interested to know that we surveyed clients and researched the use of bottles/tubes verses sachets and every customer identified to us that they throw out their shampoo bottle before getting to the bottom of the bottle.  They also identified that the tubes break or get blocked or clogged.  We have come to the conclusion that sachets are truly the best way to store the product for sale which ensures continued freshness, zero unwanted air exposure.
Dual system

 

– suitable for use on both lashes and brows so the salon investment is less than having to stock a range for each service (one for lash lifting and another for brow lamination).  This also means that should you open a sachet to patch test a client, there is a possibility of two services with that opened sachet instead of just the one. 
Results that last

 

6 – 8 weeks with a reduced chance of irregular grow out in the lash growth cycle.
Fast to process

 

– while this system is

 

not

 

as fast as the Elleebana Lash Lift system, the development of the steps have been formulated in a unique way to still remain a speedy process for salons.  We request that you advise clients who are purchasing this system that the time

 

is different

 

and to not process with the same expectation in the same time frame as the Elleebana Lash Lift system.  We still have a variation of times listed on the packaging based on the hair structure, density and resistance because the client is the variable and the system needs to be processed accordingly.    
THIS IS IMPORTANT – here is an example of processing times for a lash service for ease of reference:
ELLEEBANA LASH LIFT PROCESSING TIMES

On medium strength lashes

TOTAL TIME WITH ELLEEBANA

ELLEEPLEX LASH LAMINATION PROCESSING TIMES

On medium strength lashes

TOTAL TIME WITH ELLEEPLEX

Lift – 6

Set – 5

ReGEN - 3

14 minutes

Lift – 8

Set combined with ReGEN - 6

14 minutes
So as you can see the example given shows that while the processing time is longer the combining of the setting step together with the new Elleeplex ReGEN – Next Gen System has the total treatment time can be the same in some cases.
Elleeplex Profusion Full Kit