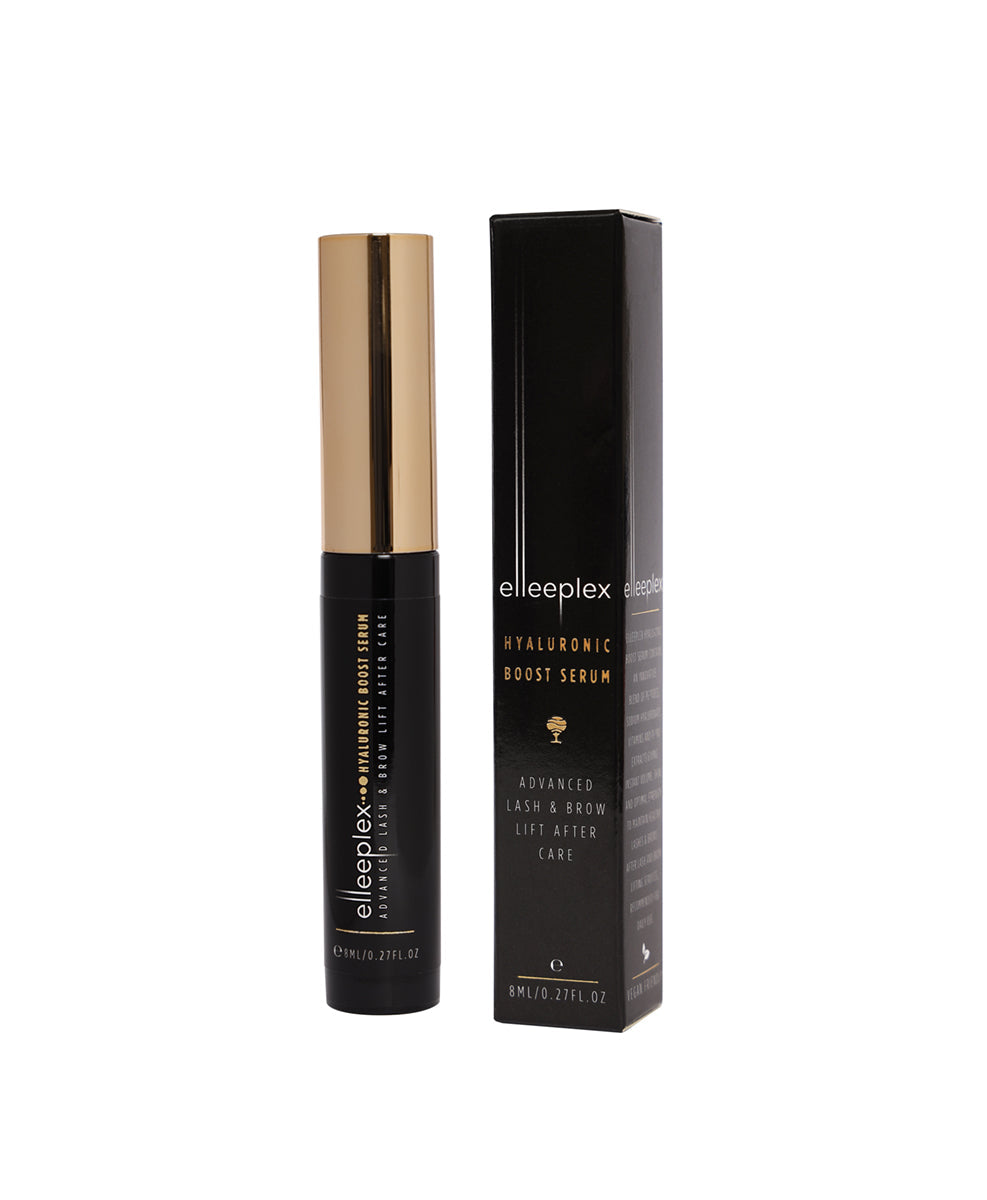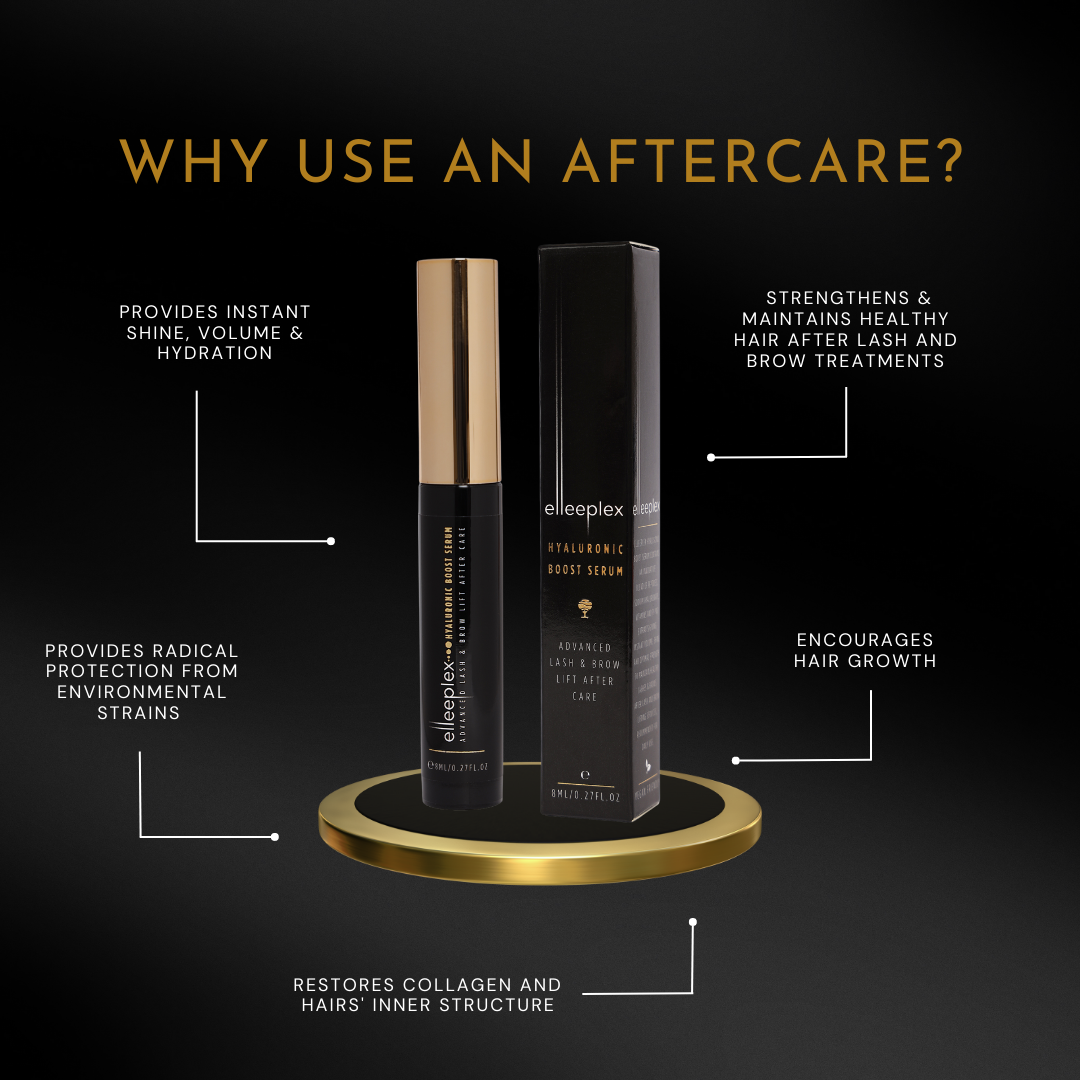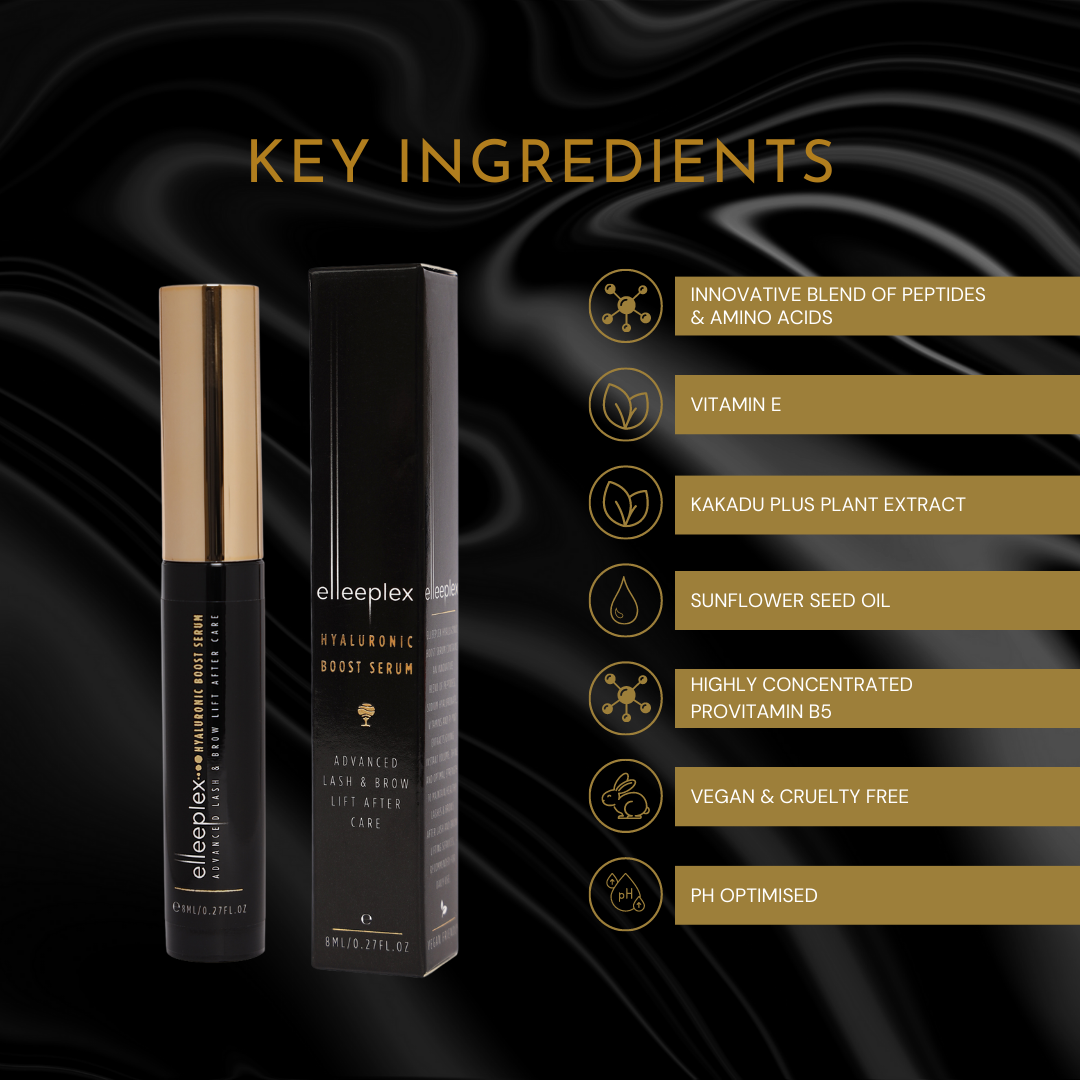 Elleeplex Hyaluronic Boost Serum(RETAIL PRICE)
Born from the desire to restore vitality and hydration to eyelashes and eyebrows Elleeplex Hyaluronic Boost Serum is an advanced restorative lash and brow lift daily aftercare designed to provide molecular level volume and elasticity.  Encouraging healthy hair growth by boosting the formation of disulphide cross linkages,  ensuring the restoration of collagen and connective inner hair structure, while penetrating the cuticle to strengthen, elasticise and invigorate for glossy, strong and healthy lash and brow growth.  With a diverse range of carefully crafted innovative ingredients to treat lash and brow hair concerns and provide hair health and care post lamination services, Elleeplex Hyaluronic Boost Serum offers salons a trusted aftercare treatment solution to use on clients and to retail to them for homecare use.
 Retail for $45
The Elleeplex Hyaluronic Boost Serum contains an innovative blend of peptides, Sodium Hyaluronate, vitamins and plant extracts giving instant volume, shine and optimal strength to maintain healthy lashes and brows after a lifting service and leaving them feeling lush, hydrated and rejuvenated.
FOR WHOLESALE PRICE PLEASE CREATE AN PROFESSIONAL ACCOUNT
Let's take a product deep dive:
Vegan
Cruelty Free
Ophthalmologically tested
pH optimised at between 5 – 6 on the pH scale
Highly concentrated Provitamin B5 (Panthenol) binds follicles, coats and seals in moisture
Sodium Hyaluronate boosts moisture absorption and content to reduce frizz
Vitamin E (tocopheryl acetate) for shine and may improve dry skin or flakiness after brow lamination
Kakadu Plus (Terminalia Ferdinandiana Plant extract) for elastin boosting and gloss restoration while providing free radical protection from environmental strains caused to hair
Innovative blend of peptides and amino acids acts as cell-signaling agents, supporting the protein production that is influential in growing hair
Wheat, Soy and Corn Micro Proteins restore the hairs' inner structure
Sunflower seed oil restores shine to the protective layer of the hair fiber
Made in Italy, designed in Australia
Must be used 3 months after opening
Number of applications from a bottle – If applying to eyelashes only once per day and with an average number of lashes on both eyes roughly 100 applications, if applying to eyebrows only once per day and with an average density to the brow – roughly 80 applications.  Some clients are heavier handed than others and some have more lash and brow density so it's important to consider those factors also.
Elleeplex Hyaluronic Boost Serum(RETAIL PRICE)